Alia Bilgrami ⎸ Pakistan-Canada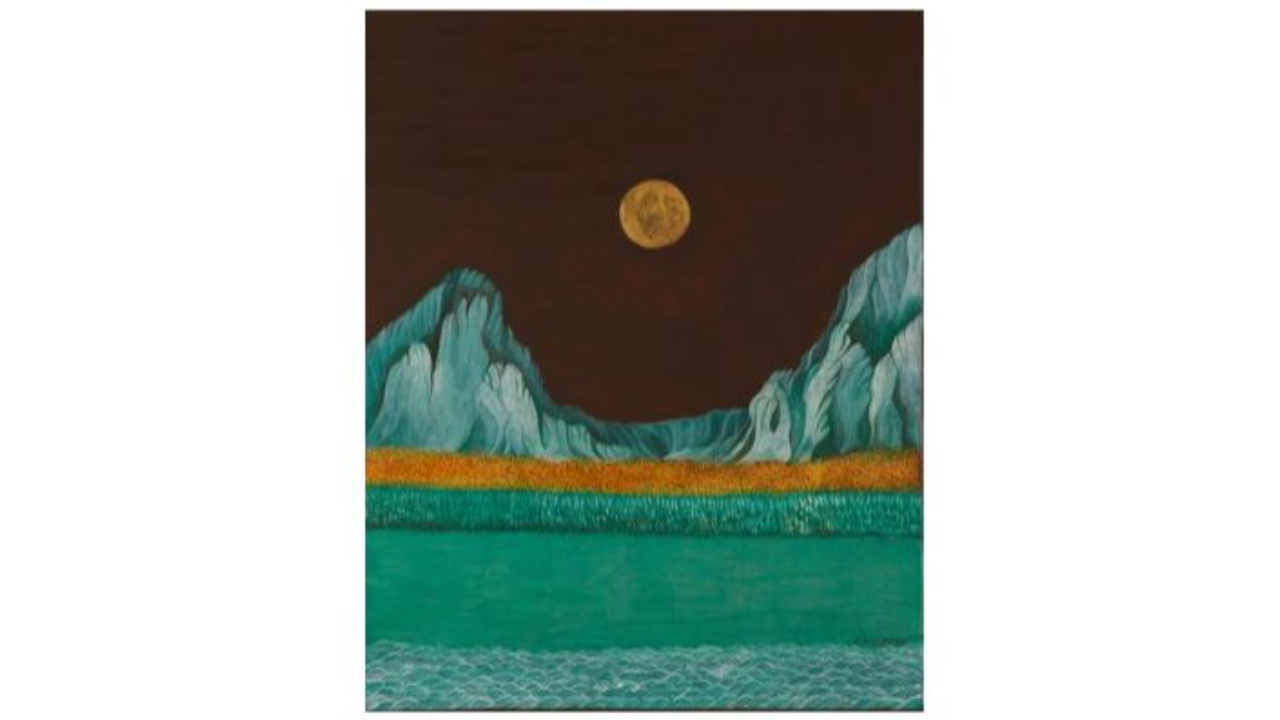 Wolf Moon, Egg tempera painting and shell gold on gesso panel, 25.5 x 20cm, 2021
My name is Alia Bilgrami, a Pakistani/Canadian mixed-media artist and curator based in The Hague, Netherlands. I use various analogue photography techniques in my practice, predominantly cyanotypes that I rework with finely painted details using my training in contemporary miniature painting.
After completing my MA from Central Saint Martins College of Art & Design, London (2010), where I won the Cecil Collins Memorial Award for Drawing, I have shown work in many international exhibitions. Solo presentations include Tulipmania at Rohtas Gallery, Islamabad and Out of the Forest at Koel Gallery, Karachi, Pakistan. One of my paintings won the Sovereign Asian Art Public Vote Prize, Hong Kong (2015). In Den Haag, I am a member of Stroom and have exhibited at Pulchri Studio in their Autumn Salon (2021). Two of the works included in this exhibition are of great significance to me personally, and to my art practice. Today, I would like to talk about them in more detail.
Wolf Moon and Sun Dance, 2021
Wolf Moon and Sun Dance are miniature paintings depicting landscapes. The former is a moonscape with turquoise mountains inspired by Persian miniatures, set against a deep, dark background with yellow fields and the sea. The latter is lit up by a bright sun and features the same elements. Both compositions are minimalist despite their intricacy. I have used egg tempera on gesso panels, a delightful medium that I have experimented with recently, using mineral pigments and shell gold.
Much like South Asian miniature painting, it involves many layers to which I've added painstaking detail with a tiny handmade squirrel hairbrush. Both paintings were created while I was pregnant. Consequently, the palette is restricted by which pigments were suitable for me to use — yellow ochres, caput mortuum and titanium white, to name a few.
Image: Sun Dance, Egg tempera painting and shell gold on gesso panel, 25.5 x 20cm, 2021
Produced during the pandemic, these fictitious landscapes are drawn from my memories of home. They are nostalgic and reflective. Wolf Moon signifies a new beginning – a time for shedding the old and bringing in the new. For me, this meant letting go of the past, the foetuses we had lost as a couple, and subconsciously, the loss of my own mother at a very young age. Sun Dance is a time for healing – something most people can relate to since the pandemic began. This meant coming to terms with the past to create room for the new relationship I was about to experience as a mother.
Landscapes are sometimes unfairly seen as an outdated art form. The lockdown drastically changed this way of thinking as people had more time to appreciate nature. During the pandemic, social media was inundated with scenery and views from windows, but I wanted to search introspectively and work with my imagination. By doing so, I recreate my own little pieces of "home."
Please follow me on Instagram @aliabilgrami.art and www.abilgrami.com to see the development of the work I am currently producing for an open studio event next month (15 & 16 April 2023) for Kunstenaars in het Statenkwartier. I am looking for funding opportunities to produce more work and to enable me to carry this practice forward. If you have funding ideas and sources, I'd love to have a chat. I would also love to hear more about opportunities to exhibit my work in the Netherlands. If anyone has advice or tips on how to go about this, that would be much appreciated! My email is [email protected] if you want to get in touch.