Claudia Claremi ⎸ Spain-Cuba
Claudia Claremi, La memoria de las frutas (diáspora), La Casa Encendida, 2023. Photo: Galerna
My name is Claudia Claremi, and I'm an artist based in Madrid, Spain. My work combines video, analogue film, photography, and installation.
Today, I'd like to share with you my project 'La memoria de las frutas,' (The memory of fuits), which is a large-scale research project about Caribbean fruits and the emotional bonds they evoke in people. The project was produced in Puerto Rico, Cuba, the Dominican Republic, and its diasporas, and it archives dozens of fruit varieties through people's memories.
I began this research during my residency at Beta Local (San Juan, Puerto Rico) in 2015. Since then, the project has continued to grow and has been exhibited at galleries including the Center for Visual Art (Denver), Paul Robeson Galleries (Newark), Cuchifritos Gallery (NYC), Matadero (Madrid), and Manifattura Tabacchi (Florence). Additionally, 'Banana Craze'[*], a virtual permanent exhibition, showcases the project. The most recent chapter of this work, 'La memoria de las frutas (diaspora),' is now being shown at La Casa Encendida in Madrid.
La memoria de las frutas, 2015-2023 (The memory of fruits)
'La memoria de las frutas' is a series in which each chapter addresses a specific context or community. This new chapter focuses on the Caribbean communities in Spain, and it holds a special meaning for me because it started by interviewing my family, who are part of the Cuban diaspora.
The work features two elements: a black and white 16mm film showing people's empty hands that, through gestures, describe the fruits that they remember, and text fragments of their oral testimonies. 'La memoria de las frutas' is displayed as an installation that includes one large film projection alongside five overhead projectors with text transparencies.
Claudia Claremi, La memoria de las frutas (diáspora), La Casa Encendida, 2023. Photo: Galerna
The texts refer, for example, to a tree in the courtyard of a family house in Santo Domingo, the pleasure of eating homemade jams in Cuba, or the high price of tasteless mangoes in Madrid. These memories evoke fruits and their shape, smell, or taste but, at the same time, they trigger considerations about industrial agriculture, immigration, which fruits circulate in the global market and which do not, Cuba's empty fields, or the US's damage on Puerto Rico.
'La memoria de las frutas' is an unusual inventory of fruits – many of them 'forgotten' and increasingly less available nowadays – and functions as a record of flavours, places, plants, and desires, as well as stories of economic and cultural colonialism. The complete project of 'La memoria de las frutas,' including the part of the islands and the diasporas, builds a collective narration of what is affecting both people and fruits.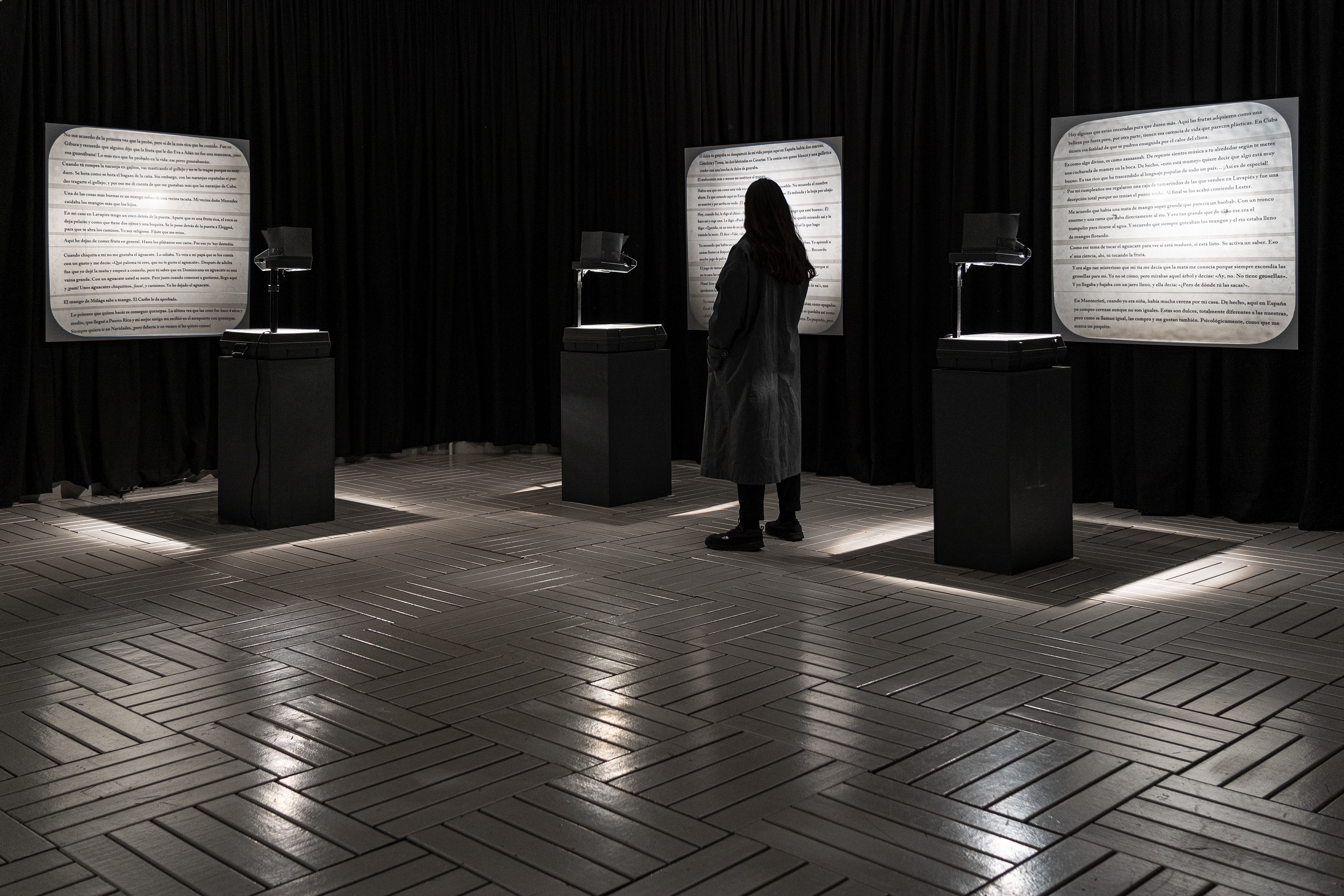 Claudia Claremi, La memoria de las frutas (diáspora), La Casa Encendida, 2023. Photo: Galerna
I'm starting to plan a book project that compiles this research, which I hope to share with a wider audience. Please follow me on Instagram @claudiaclaremi or visit my website, www.claremi.net, to see the development of the project. Feel free to email me at [email protected] if you'd like to get in touch and learn more about my work!