Making positive choices for your art practice in 2023, Dana Brass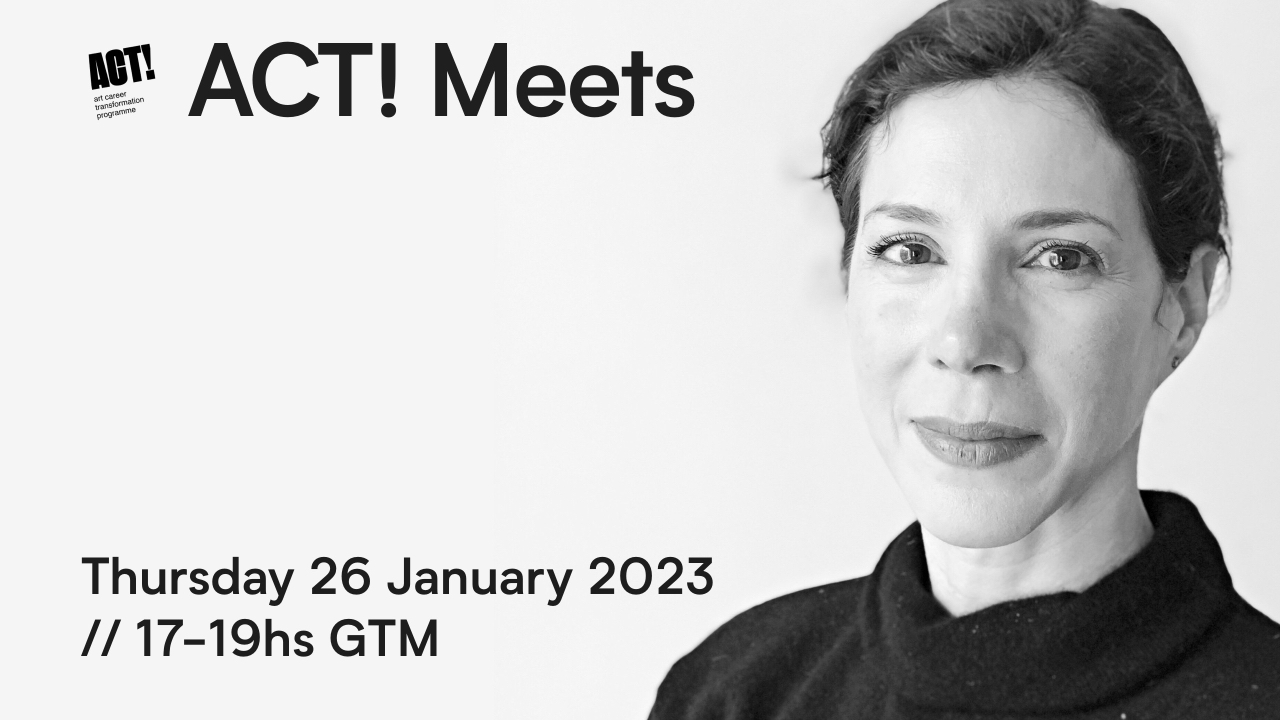 Hello, 2023!
Join us for this inspiring ACT Meets on making positive choices in your art practice, hosted by Dana Brass.
After last year's successful workshop, Dana is back! In this practical session, you will build an action plan for your personal and professional growth in 2023.
Bring pen and paper and be ready to follow the exercise. You'll have the opportunity to share your reflections with the group if you choose to. If you prefer to keep your thoughts to yourself, that's ok too. Everyone is welcome to join us for this fantastic session!
Takeaways:
1. You will learn to recognise your habits:
- The Bad Ones
- The Good Ones
- How To Break Them
2. You will learn how to hear feedback
- Getting to know your defensiveness
- Not taking feedback personally
3. You will identify and deconstruct the inner story
- What is your inner story
- How it affects your decision-making
- Choosing a different story
*We will not record this session due to the personal nature of this workshop.
...
Register here
to confirm your attendance and receive your Zoom link.
Date: Thursday, 26 January 2023 // 17-19hs GTM
This ACT Meets session is free to attend and open to everyone, but places are limited and reserved on a first-come, first-served basis. All ages welcome.
...
ACT! Online Event Etiquette:
For participants joining us for the first time, please be advised that we follow a strict cameras-on etiquette. Participants with their cameras off will be removed from the session and will not be allowed to re-enter. Thank you for your understanding.
...
About Dana Brass
Dana Brass holds an MA in Psychosynthesis Psychotherapy from the Institute of Psychosynthesis/Middlesex University, where she is now on the Institute faculty and is a registered accredited member of the UKCP. Dana's fine art BA is from the Slade School of Fine Art, UCL, London. While at the Slade, Dana also attended the Ecole Nationale Superieur de Beaux Arts (ENSBA), Paris. Dana earned a BA in Human Development from Boston College, Boston, Massachusetts, and attended New College of Florida, where she studied fine art and sociology.
...
What are the 'ACT Meets'?
The ACT Meets programme consists of periodic get-together sessions and Q&As, where the ACT community meet curators, residency directors, ACT tutors, and more guests. The sessions are open to ACT Alumni and participants enrolled in our programmes. A few times a year, we invite guests and the general public.
Our intensive programme for artists, 'Getting it Across: Communicating Your Art Practice,' starts Friday, 24 February 2023.
Click here
to read about how it works and what you will learn.